Introduction
In this blog post we'll help answer the age old question, "What does this service talk to and what does it say?" We'll see how to inspect inbound and outbound REST API calls to see what calls are being made and what incoming traffic causes a reaction. This can be pretty handy when you're taking over maintenance of an existing service, or if your code just isn't behaving the way you expect.
For this exercise let's observe the world's simplest and least reliable Python application using Speedscale's desktop observability tool. This pre-made demo app accepts inbound HTTP GET requests and returns the current Hackernews top 10 new articles. Note that speedscale-cli can inspect API calls for services running in docker and on your local desktop. But to keep things simple, we'll run the app locally and route traffic using a socks5 proxy.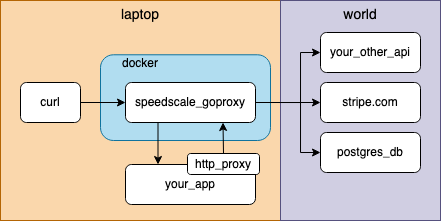 The cli can do all kinds of fancy things like transparently unwrapping TLS and tracking multiple traffic snapshots. You can find out more about it in the docs.
1. Install speedscale-cli
Visit the github repository for speedscale-cli:
https://github.com/speedscale/speedscale-cli
Alternatively, you can skip ahead and install using curl: